License Activation
How to activate your license for Smart Shooter
When Smart Shooter is first installed on a computer, it will operate in a trial mode lasting one month. During the trial period, all functionality is unlocked, so this time can be used to evaluate the app before making a purchase.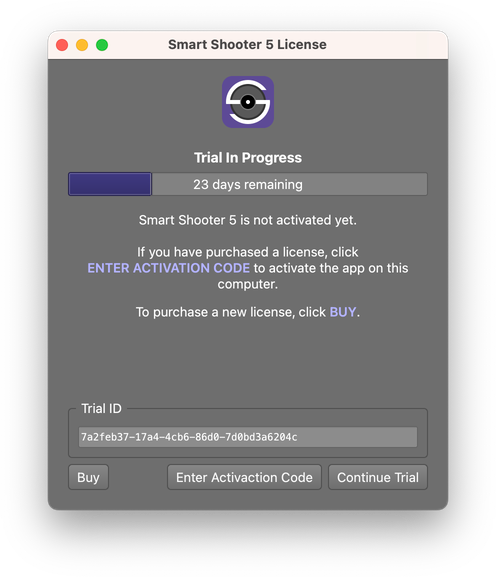 Activation Code
After purchasing a license for Smart Shooter, you will receive an email containing the activation code, which can be used to activate and unlock the app from trial mode. This email is sent to the same email address that you specified when making the purchase.
The activation code itself can be used on up to 3 computers at the same time.
Note
The format of the activation code is 36 hexidecimal digits, for example:
ABC012-DEF345-FED678-CBA901-ABC234-DEF567
This code can be entered into the License window to unlock the app.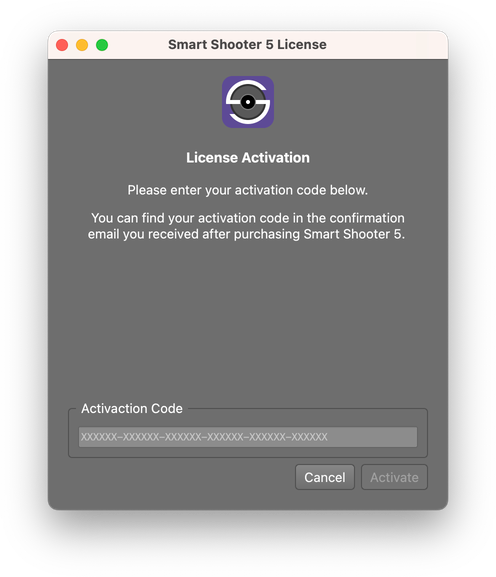 Deactivating
If you ever need to deactivate the license, click Help -> Manage Licence in the top menu bar. You may need to do this if you want to install the software on another computer and use the same license there.
Note
You can view the license information and manage the activations/deactivations yourself at the customer portal website: